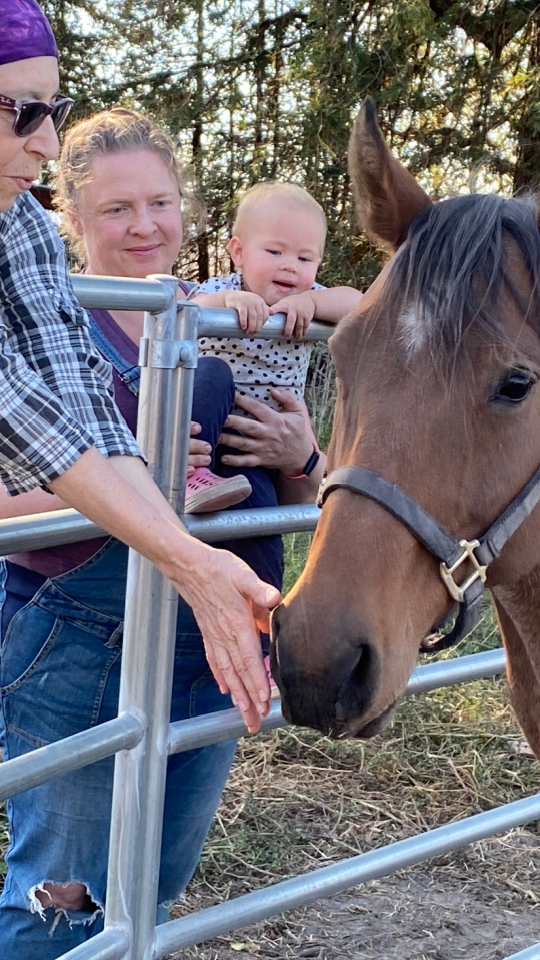 Welcome to Equine Guided Education
If you are or want to become an Equine Guided Educator or Coach, then this course is the best place to start!
Sign up now and begin learning the unique approach of our SkyHorse EGE™ model, the Gold Standard since 1989.
As the founder of EGE, Master Somatic Coach and successful business owner, I'd like to support you in being successful too.
The principles and practices brought forward in this online program are the 'tried and true' foundation for bringing horses into your healing modalities. They easily enhance any other method you may study.
I created this program for three reasons. One is to provide people from around the world the opportunity to learn the unique Principles & Practices of SkyHorse Equine Guided Coaching. The second reason is to prepare people who plan to attend our live programs with the foundational components that make this work so profound. The third reason is to provide distance learning and somatic practices so you can develop somatic awareness and a new perspective on horses to improve your facilitation and coaching presence.
Bringing forward horses as healers and teachers
Goals of this program
The goal of this online program is to support you in developing an understanding of the foundational principles of SkyHorse Equine Guided Education and to deepen your your self confidence in the 'Horse as Healer' profession. In addition, it provides the essential set of practices for developing and refining your skills as an equine guided coach/educator.
Even if you are already seasoned in this work, this course will offer you deeper insights and details into the subtlety and nuances that make this work so profound.
Learn the history of EGE and why the 'horse as healer' models are so powerful
Learn the specific tools needed to create a space of change for your clients
Gain indepth knowledge on why this kind of work is so powerful compared to other models of learning
Develop 'horse time'
Increase your intuitive listening
Expand your somatic awareness skills
Know how to work with archetypes and metaphor
Being confident in your role as a facilitator and the role of the horse as the 'guide'
Understand 'fear' and how it can interfere with learning and change
Gain confidence that 'nature' is also your 'guide'
Reflect and prepare a plan and set of goals for your work as an Equine Guided Educator and Coach
5 Learning Modules
1--Introduction and history of EGE and what makes this work unique from other self-development models
2-The importance of biology, instinct, and somatics-(the mind/body/spirit) aspects of coaching and creating transformative change
3-The process of change and what you need to look for and work with in each of those phases. This is very important because each phase determines the types of activities you will want to offer
4-The EGE process, the role of the horse, your role as a facilitator, addressing fear, and nature as a part of the process
5-Preparing your offer, the 'who what and why' you want to do this work.
REQUIRED READING AND VIEWING
     *Horse Sense for the Leader Within by Ariana Strozzi Mazzucchi
  * Equine Guided Education, Horses Healing Humans Healing Earth, by Ariana Strozzi Mazzucchi
          * Planning Your Business in the Horse as Healer/Teacher Professions, by Ariana Strozzi Mazzucchi
          * Intuitive Horsemanship™ DVD